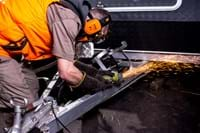 Frequently Asked Questions
General
Sales, Consignment and Finance
Care & Servicing
Repairs & Upgrades
Do you offer caravan repairs?
Caravan Care are set up to handle ALL of your repair needs. Experts in all framing, structural, gas, plumbing and electrical - the team at Caravan Care have the experience required to handle any job, big or small!
Find out more by checking out our Repairs page or giving us a call today!
Can you help me handle an insurance claim?
Caravan Care are committed to helping their clients with every aspect of their Insurance Claim. From helping you write and submit your claim, to working with your insurance company on an approval and finally into the repair work itself. Our trusted team of professionals will assist you along every step to help you get back on holidays where you belong!

Contact Us Insurance Repairs
Can you update or upgrade my caravan or it's accessories?
Absolutely! Whether it be your van that needs updating or you're looking to buy one that needs some added features we have the solution. We can upgrade cabinetry, upholstery, install new accessories or even add an annex. Caravan Care are always on the look out for the latest in caravan technologies to ensure they offer their clients the very best products available on the market.

Accessories Contact Us
Towing
Camping
Do you know how to budget and plan a trip?
There are a tonne of resources available online to help people plan their next trip. One of our favourite families have a resource centre through their website My Rig Adventures. there you can learn how to load your caravan, where to take the family for activities and even how to budget for an entire year travelling around Australia. We love these guys because their tips are not hypothetical - they live full time on the road with their family. All of their resources are based on their experience of travelling which makes them a brilliant website for anyone with questions!!